MTG Media, ein schwedischer Medienkonzern, der unter anderem verschiedene TV-Sender weltweit betreibt, konnte nun mit Erfolg berichten, dass sie Mehrheitsanteile an der größten eSport-Organisation, namentlich ESL, erhalten konnten. Diese 74% an dem Kölner Unternehmen von Turtle Entertainment konnten sie sich für 78 Millionen Euro erkaufen.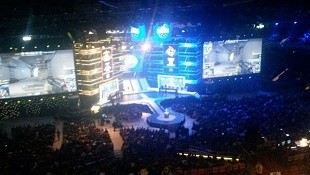 Das ESL Major Event in Katowice 2015
Wenn man sich die Sender anschaut, die MTG betreibt, erkennt man recht schnell, dass es sich vor allem um Sport-Sender handelt, auf die sie sich konzentriert haben. Des Weiteren sind sie auch dem eSport nicht ganz fremd, denn mit Viagame kontrollieren sie eine Plattform auf der Videos zu verschiedenen eSport-Titeln veröffentlicht werden.

Turtle Entertainment und seine Manager besitzen selbst noch 26% an der Firma und dürfen bei dem schnell steigenden Wachstum im eSport-Bereich immer noch mitbestimmen. Die Firma selbst soll ihren Gewinn allein dieses Jahr um 50% steigern. Die Übernahme durch MTG kann dem Kölner Unternehmen dabei helfen, dass sie weiter expandieren können. Eine Möglichkeit besteht, dass sie durch ihre Erfahrungen im TV-Bereich den eSport vielleicht dort besser etablieren können.

Die ESL, die mit der ESL One Cologne 2015 und den ESL ESEA Pro League Season #1 diese Woche mit die größten Turniere in der Counter-Strike Szene veranstaltet, kann aus dieser neuen Entwicklung nur Vorteile ziehen. Wir können gespannt sein, wie es mit dem eSport und der Vermarktung in der Zukunft weitergehen wird.

Statement Ralf Reichert (ESL):
When we founded ESL 15 years ago, our goal was to bring esports to fans all around the world and establish it as a global sport. Today, esports enjoys worldwide recognition and now, together with MTG, it is time to take esports to the next level. We are excited to partner with MTG, who share our enthusiasm for the sport and bring an entrepreneurial commitment to help make this dream come true. MTG's extensive operational network in over 100 countries will help us bring ESL and esports to many more places around the world, while allowing us to continue expanding on strong, strategic local partnerships. The ESL leadership team could not be more excited about accelerating the development of the entire esports industry together with MTG for years to come.